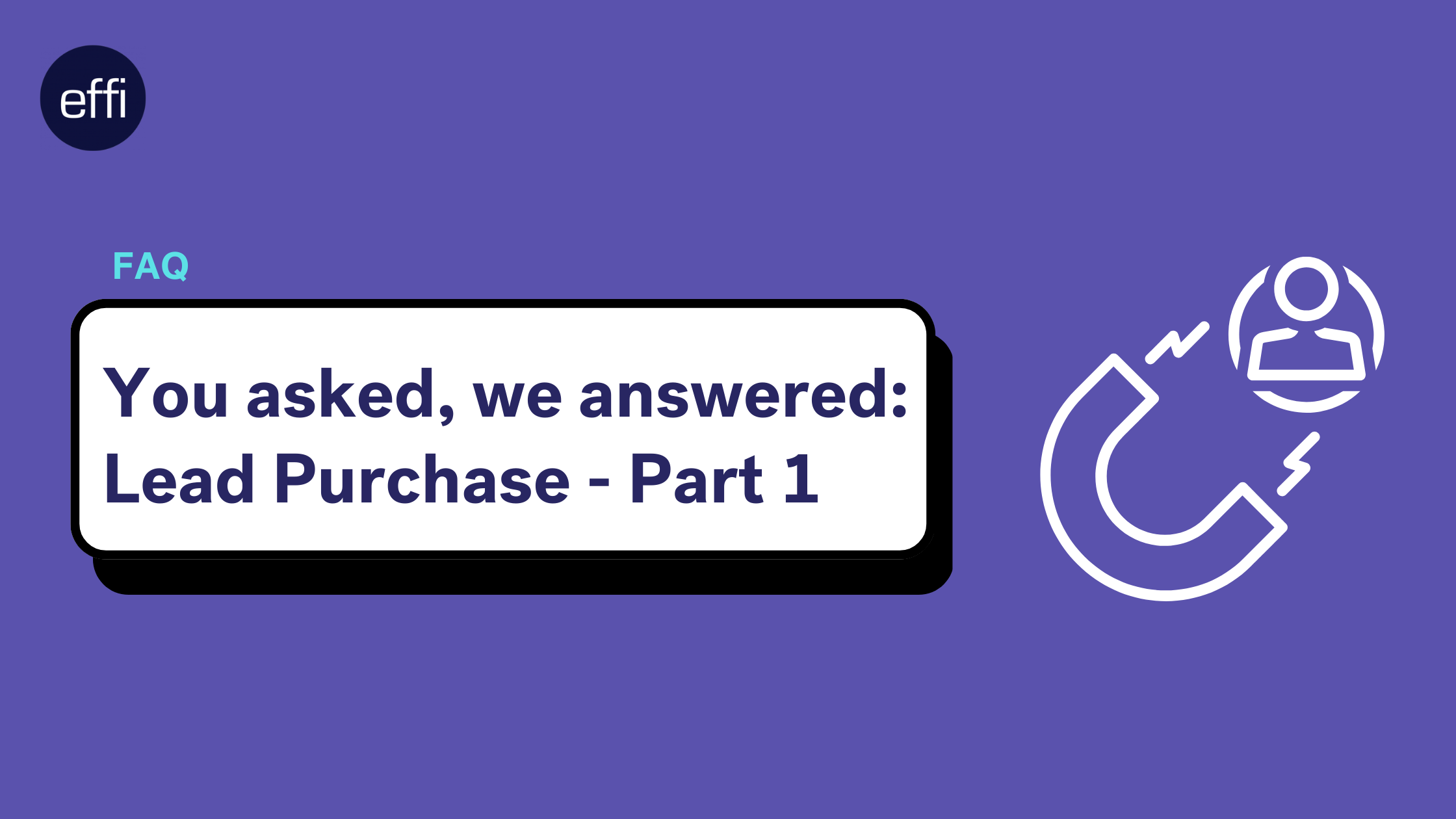 Effi has our very own Lead Generation feature whereby brokers can purchase a minimum of 5 online leads and unlock exclusive access to build a thriving brand on high-traffic platforms.
I've tried other lead-generation platforms before. How are you different?
We love it when people ask us this question, or better yet - the question of 'What's the point of purchasing leads with Effi?'. These questions often end with the broker signing up to the Effi platform straight away.
The truth is we are clear on what we provide - i.e: a tech-enabled marketing solution built to keep up with the evolving needs and fast pace of broker businesses.
We are not a lead provider but we are reinventing how broker marketing gets done, at scale. By integrating a broker search engine on our partners' websites, potential customers can discover brokers in their areas quickly and easily.
Unlike other lead generation platforms, we don't require you to buy leads in a big bundle and we definitely don't share the same leads with multiple brokers. We only work with high-traffic known brands and make it absolutely mandatory for each lead to be SMS verified and select a time when the selected broker is available. Lastly, we also show the photo of the mortgage broker with details so that the lead knows who they are going to speak to.
Where do you source all your leads?


We source all of our leads from top financial comparison sites and known high-traffic websites as more and more connections with brands are made online than ever before. When we meet new partners, we look for high traffic volume, platform success and commitment to broker businesses.
Our lead partners come in many different shapes and sizes, but all have the ability to gather prospective clients for you. They are Canstar, RateCity, We Wumbo, Home Loans Australia, Soho and Finty. Let the leads roll in!
Do you qualify those leads?
Yes and No. Whilst we might not have a full qualification process, our leads are phone verified and ready to talk to you when you are available by showing the slots when you are available to book. Please bear in mind, we are not responsible for any actions you may take when a lead comes to you. We create your brand and SEO on all these high-traffic websites that assist borrowers with home loan needs.
Once they select you to discuss their home loan needs, we leave the nurturing process to the expert (you!). Remember, it's important to build a rapport with the lead and give them the confidence that you have understood their loan requirements and your expertise to assist them.
How to purchase leads?
Purchasing leads has never been easier. Once you are in the Effi broker portal, follow our simple steps in the link below to purchase leads. You will have a public profile on our partner network after purchasing a minimum of 5 leads. When you have used up your leads and would like to continue receiving more leads, simply top up in the portal.
https://support.effi.com.au/hc/en-us/articles/4462594284569-How-do-I-buy-leads-through-Effi-
How can customers contact me?
Your online profile within the Effi platform helps customers find you easily on high-traffic platforms and lets them know what your service is about. Visitors will be able to do a location-based search, view your profile and request a callback from you with a single click. They will need to verify their phone number to make sure it is valid and contactable, choose the preferred time for the callback, provide the loan amount, suburb, email and any additional notes. You will be notified by phone and email every time an appointment comes through.
Do you take any commission if the lead settles?
Nope! The commission you make through Effi when the lead settles is completely yours. The only cost to lead purchasing is the upfront cost of the lead.
What happens if I'm busy and can't receive leads?
At Effi, you have the opportunity to control when you are to receive leads. If you don't have the capacity to receive leads or have a holiday coming up you have the ability to make yourself unavailable for that period of time.
How to do so? Learn more here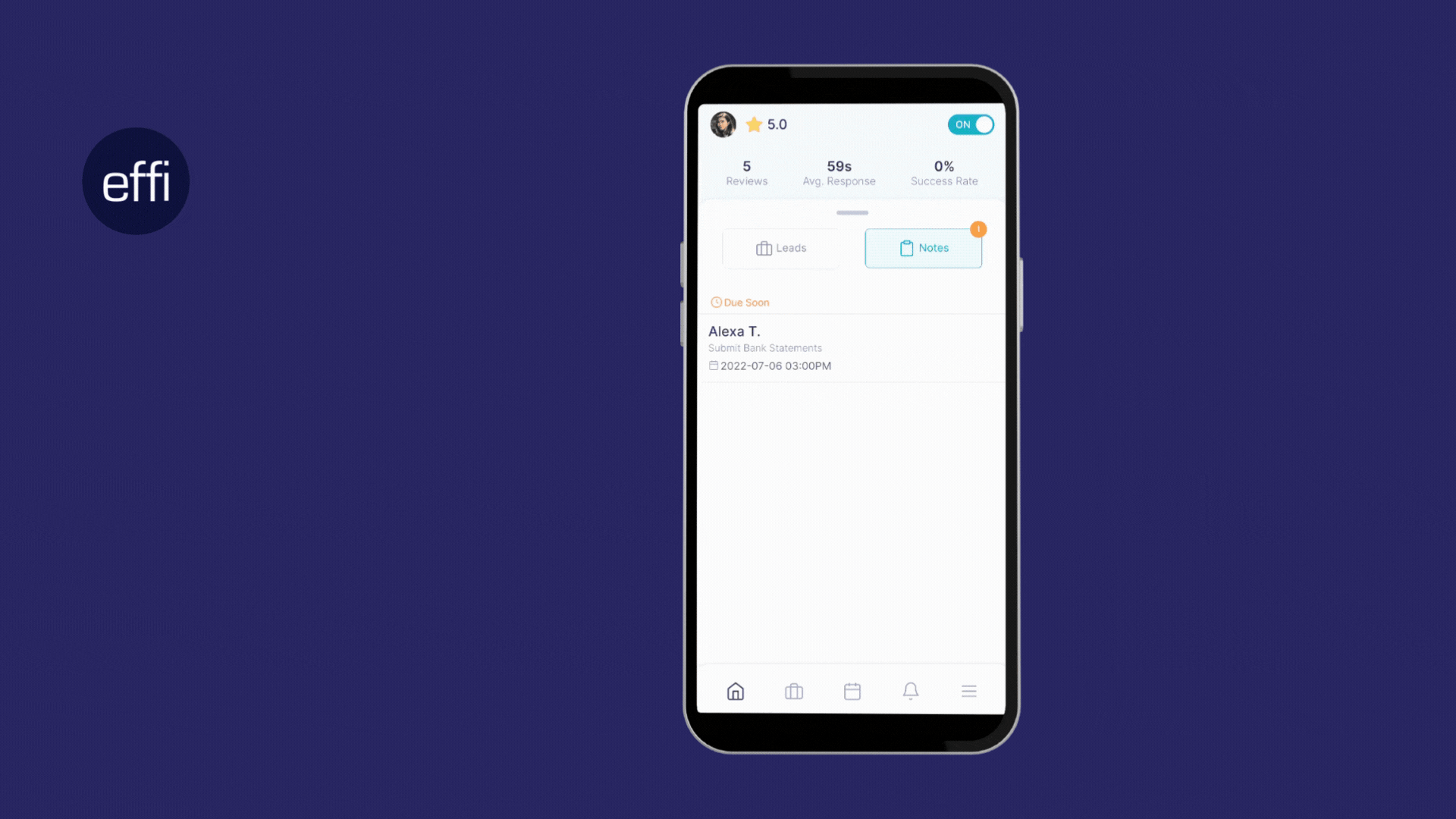 Do I have to purchase a set amount of leads?
There is no obligation or specific requirement that you need to purchase leads regularly. We want you to find and use whatever it is about the platform that benefits you. We care about what you expect from us, not what we expect from you. At Effi, you have the ability to purchase leads when you feel it is right.
Is there anything I need to be aware of?
At Effi HQ, we don't tell brokers how they should nurture their leads as every business is different. We do recommend a few things for your consideration:
Respond to the leads as soon as possible. Businesses that

respond within an hour are almost seven times more likely to have meaningful conversations

with decision-makers.
Create an email list to send regular updates and connect with your leads in a meaningful way. According to Salesforce,

businesses that use marketing automation to

nurture prospects through email or SMS see a 451% increase in the number of qualified leads.

Include your Google reviews to show off your expertise and also let potential customers know what your service can do.

81% of consumers use Google to evaluate local businesses.
Is there a difference if I am a small business or a big brokerage?
We offer a marketing solution to get your service across to potential clients regardless of whether you are big or not. Our partner platforms show broker information based on specific locations. They are not dominated by bigger accounts as we want to ensure a level playing field for everyone. Any broker brand can grow from our platform at their own pace as leads will run through their business in a stream. They can switch this on or off any time they want. This is going to be a game changer in the mortgage broking industry.
Do you have more lead partners coming?
Currently, we have 8 amazing lead partners who insist on the highest standards of leads for our brokers. So far, so good. We are focused on the group of broker users who are giving us their genuine feedback and continue placing lead orders with us. For now, we are developing strategies to expand this group of users to absorb the large lead supply we have right now. Any future platforms require a large enough traffic to their sites for us to consider partnering with them. We will be the biggest source for mortgage leads and broker services. The world is our oyster 🦪
Ready to get started on Effi? Register via this link and someone on the broker success team will reach out to show you a demo of the platform.